Where You Live Is Who You Are
The hidden network effect that determines the course of your life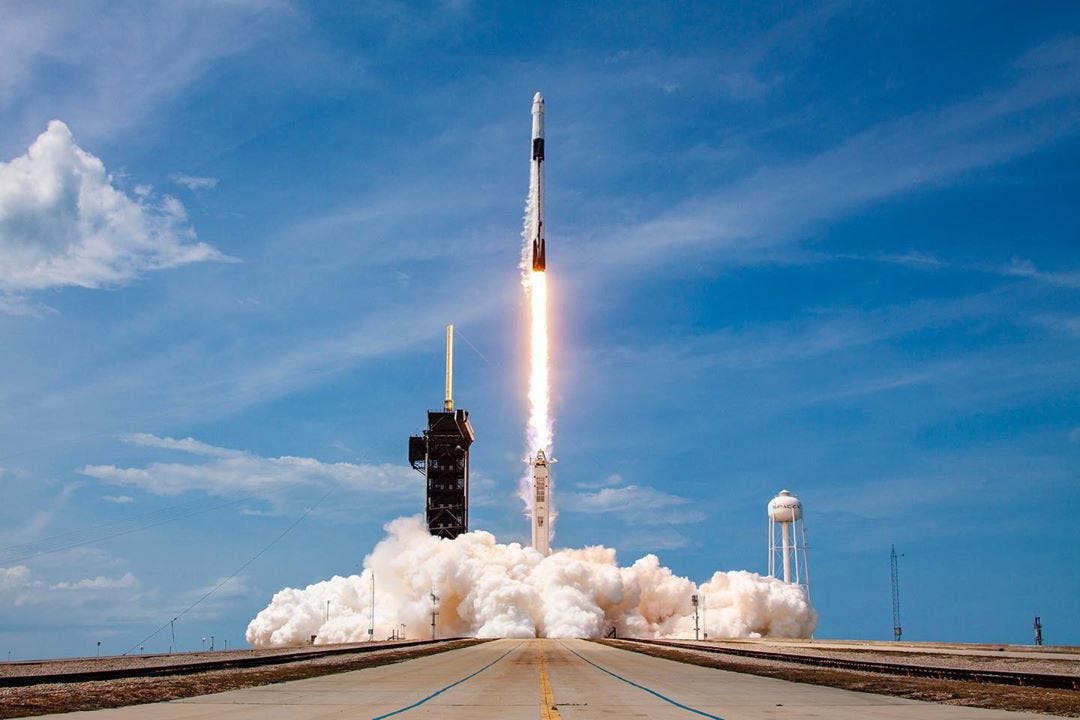 Yesterday, SpaceX launched its first spacecraft to orbit with its first two astronauts in it.
It's good to have something to look up to for a moment when the world is going through so much negativity, division, vulnerability, and hatred.
It might be the craziest year in the 21 years of my life even though I am basically staying home all day. How strange. It's still May and we haven't even had Election Day yet.
Those recent events put me through a range of emotions. But for now I am just gonna leave this song that Spotify randomly played for me here.
Even though we're all born and created equal 

We're not treated equally 

There's extremists on every side 

And you should just do your best to live life 

And let other people believe whatever they wanna believe 

As long as they're not hurtin' anybody 

You can believe they're going to hell 

You can believe it's not right 

You can believe you're superior, fine 

Just stop killing each other - Logic
This weekend I didn't see a single article on COVID-19, but the pandemic is still on.
The pandemic has been changing so many aspects of our lives and how we could live in the future, including how we work.
Remote Work and Serendipity
Companies including big ones like Facebook, Twitter, and Shopify are quickly shifting to remote work. The trend has been happening for a while, but this pandemic certainly accelerated the shift to remote work. Because of that, some people seem to be leaving the cities to less crowded areas.
The remote work culture has advantages and disadvantages.
One of the advantages is, of course, increased freedom.
If you don't have to commute, you'd have more control over your time. You would have more time for yourself, your family, and your hobbies.
You can also pick where you live more flexibly if you don't have to live close to your office. 
Especially for industries like tech, all you need is a laptop and a good WiFi connection. Mountains and beaches become more accessible.
Overall, it's just more flexible and you have better control of your life.
However, on the flip side, this shift to online gives less randomness and casualness in your life.
Before the pandemic, you were still talking to people, including those who you're close to and you're not so close to, more randomly.
You used to have many conversations you didn't specifically plan to have. Some go well, Others not so much. The casualness and awkwardness.
It now is more difficult to have casual interactions with people when you don't have a specific purpose.
We have a different type of awkwardness now. Something like Zoom fatigue might be partially coming from the new frictions and the loss of casualty that causes.
We are also seeing some form of solutions that add back the randomness and informality that we all miss (I believe).
In the world of gaming, for example, Animal Crossing is killing the game. Fornite also introduced a new violence-free mode called Party Royal.
Apps like Clubhouse also offer the casualness that we're missing right now.
People are just looking for a place to hang out like humans.
I also have high hopes for VR. The technology could eventually make the experiences more immersive and real. When the VR work environment eventually reaches the level of Unreal Engine 5, a new game engine revealed recently by Epic Games, we might have completely different work experiences.
But, for now, we're nowhere close to replicate the physical spontaneity we had before the pandemic.
Many unexpected and seemingly meaningless interactions in life give birth to interesting thoughts and ideas.
Those casual interactions we had when we commute using public transportation. Those lunches where you could talk about anything with your friends/co-workers without much thought.
We don't notice the value of those things until we lose them.
While the remote work culture surely offers many benefits, the serendipity and randomness of the physical interactions also provide so much value.
Where You Live is Who You Are
When I make life decisions, I feel I generate the options myself and I am free to pick the best one.
However, many things that you think don't have that much impact on your life actually have much more impact than you think.
The biggest one is your network. It's your family. It's your friends. It's your co-workers. It's your school. And, it's where you live.
The other day, I was talking with my friends about our turning points in life. Most of them said their turning point was which school they ended up going to. This is the case for me as well. The reasoning was that that decision explains all the major decisions we made after the decision.
When was the biggest turning point for you in your life? How has it been shaping your life? It might have largely shaped who you are and what you believe.
This article, Your Life is Driven by Network Effects, breaks down major network effects in life, and mathematically highlights the importance of your environment.
In the article, James Currier writes:
What shows up on your life dashboard is put there by your network. And your network is the result of just a few crossroads moment decisions in your life.
He lists those major crossroads: What family you're born into, high school network, college network, first job, marriage/choosing a life partner, and where you live.
Because of the context here, I will just focus on the last one: 
Where you live.
In that section, he talks about the importance of where you physically live:
[P]hysical proximity is predictive of network formation. Cities, from a network perspective, are like scaled-up colleges. Network density, frequency, similarity, and status accumulation all drive urban network formation. Cities do a great job of helping us form our networks because they are networks themselves, both physical and social.
Where you live largely determines who you know. Who you know largely determines the richness of your life and your access to wealth and information. Your network is a form of wealth. It brings you friends, career opportunities, or a spouse.
It's all about your network. The relationships you have determine your life course. Currier formulates the likelihood of forming a relationship this way:
Mutual affinity * frequency of interaction * duration of interaction * geographical proximity * network proximity * number of shared connections * etc…
This is why Silicon Valley is Silicon Valley. (And, New York is New York.)
Probably many startup ideas came up during casual and unexpected mixings of people, their cultures, and ideas.
All those tech companies utilize the most advanced technologies but still have been choosing to stay in this expensive area probably for the underlying magic.
The rule is, if you want to do something in your life, move to a place where that's what everyone does.
Currier offers a checklist to determine where you want to live:
Are the people in this city like me?

How long can you see yourself staying there?

How important is your career to you?

How much do you enjoy a fast pace of life?

How much do you enjoy or value meeting new people?

Are the core parts of your network topology filled in?
It doesn't have to be only about your career, but the characteristics of where you live should align with your priorities.
It might be a good time to reassess where you want to live and the checklist might work as a framework to make the process easier.
The internet is certainly helping to reduce the limitations of physical locations with the emergence of those products I mentioned. But humans haven't been keeping up with the evolution of those technologies.
We are still social creators that biologically value physical interactions over those of online.
At the same time, I am all for the freedom and fun the technologies can create for us. After all, technology is there to make us freer. Probably it's just a matter of balance.
I think the cities are here to stay. And, assessing where you decide to physically live might be one of the best use of your time and energy.
Your networks are everything, especially the physical ones. For now.
I am on Twitter. Comments, feedback, book/article recommendations, anything is welcome.