Being Mindful of Your Attention
How you pay attention decides all of your life choices and shapes your worldview. We always have to allocate our limited attention effectively to get through life without overloading our minds.
Sometimes, we pay attention to things that don't make us happy. We try to learn from our experiences to adjust how much attention we give to one thing over others. The process of attention allocation takes in many variables such as probability, time, sentiment.
How We Pay Attention
One of the variables is time. Evolutionarily, you find present stimulus more salient, explains the cognitive scientist Dr. Vervaeke in Ep. 5 of his 50-hour lecture series, Awakening from the Meaning Crisis. As time goes further into the future, things become less salient to you.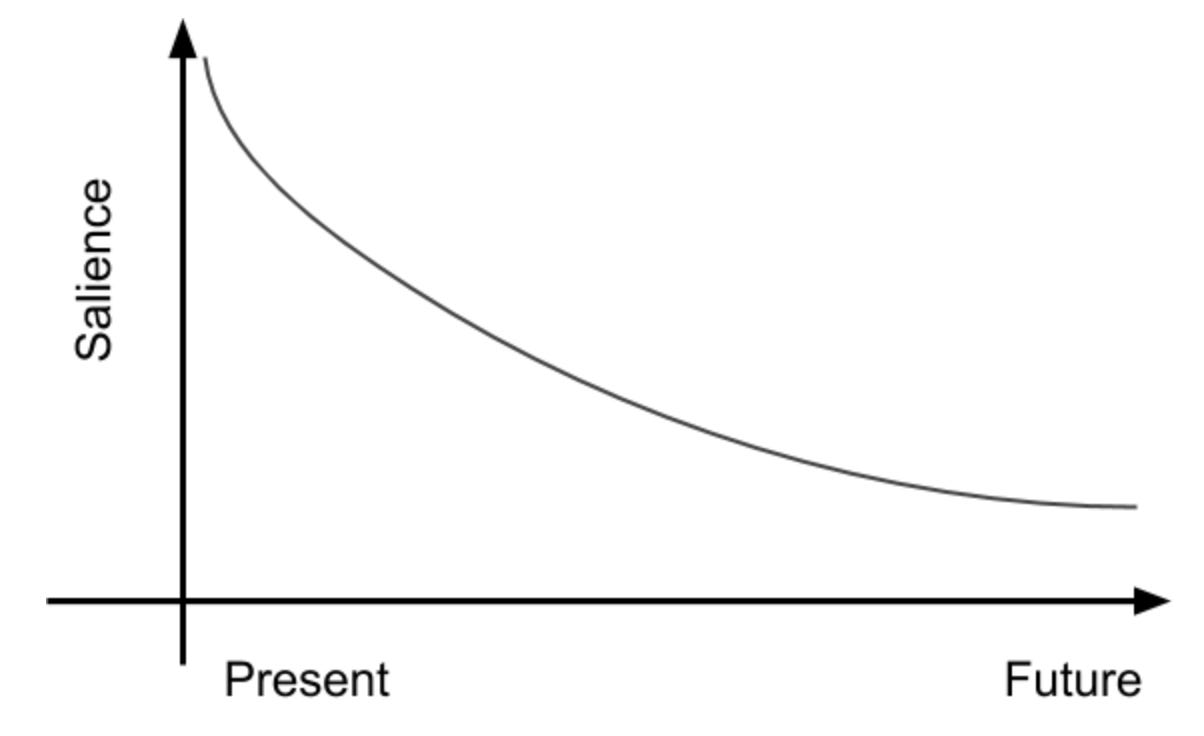 This tendency is called temporal discounting. The further a future event is, the less value we attach to it.
It makes sense because each future event is less probable compared to the present ones. You have the present moment, and you have many future possible events: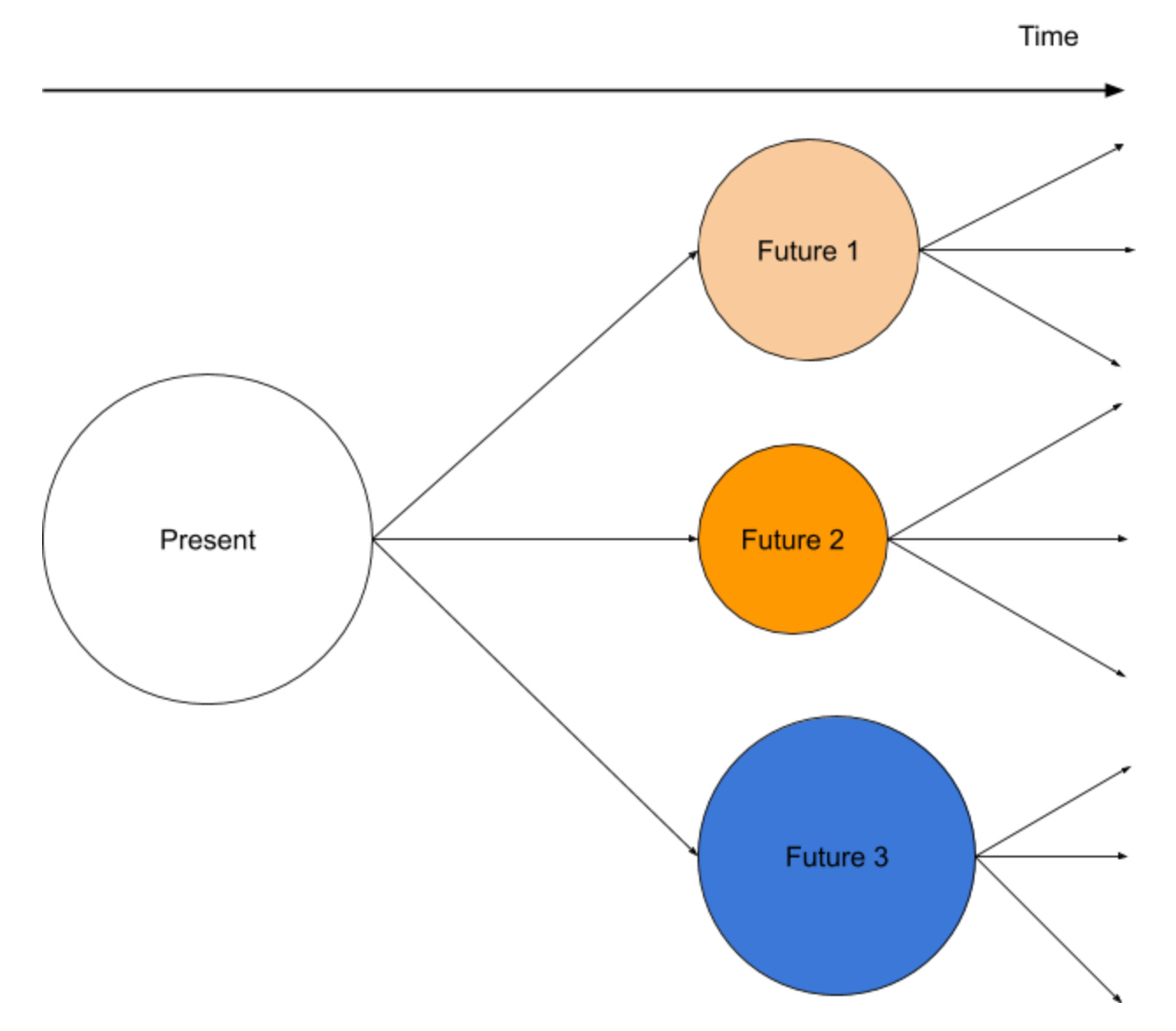 The present moment is 100% probable because it is happening right now. In contrast, each future even has its probability of occurrence. Future 1 might have a 30% chance of happening. Future 3 might have a 50% chance of happening.
The numbers are all the product of our mental constructions. In this case, you pay more attention to Future 3 than to Future 1 because 'you' find Future 3 more salient based on many factors.
This evolutionarily makes sense because otherwise, our mind wouldn't be able to process all of our mental constructions, including the present and the future events, most efficiently. 
However, emotions, for example, can create a different dimension to it and disturb the proper allocation of our attention.
Research suggests that positive emotions such as relief or joy induce the experience of time expansion between the present and the future event. However, the reverse is also true. Negative emotions make you feel you have less time than you actually do until the future event.
Let's say Future 3 indicates an exam coming up, you feel anxious, and time seems to pass quickly until the exam date. The negative emotions associated with the Future 3 event make it more salient that it might actually is by making it 'feel' closer to the present.
Therefore, anxiety people tend to find future events with low probabilities more salient. This is an automatic process you are usually not conscious of. If you're, you'd probably try to change it. When you're anxious, you can't help but automatically pay attention to things you don't want to be paying attention to because they feel more salient due to temporal discounting.
Imagine the last time you were anxious about something. You probably felt like the worry was dominating your mind. You're hyper-focused on the negative possibility. When this happens, your mind is wandering and not present.
Being Mindful of Your Attention
It's challenging to learn how you're paying attention to things, especially when you're anxious. This is a lifelong process of figuring out what to be conscious of and what to pay attention to.
In 2005, David Foster Wallace gave one of the most famous graduation speeches of all time at Kenyon College before taking his life three years later. During his speech, This is Water, he also spoke about his view on being conscious and learning how to pay attention in the context of liberal arts education. Here are some of the quotes from his graduation speech:
[L]earning how to think really means learning how to exercise some control over how and what you think. It means being conscious and aware enough to choose what you pay attention to and to choose how you construct meaning from experience.
[T]his is what the real, no-bullshit value of your liberal arts education is supposed to be about: how to keep from going through your comfortable, prosperous, respectable adult life dead, unconscious, a slave to your head and to your natural default setting of being uniquely, completely, imperially alone day in and day out.
If you're automatically sure that you know what reality is, and you are operating on your default setting, then you, like me, probably won't consider possibilities that aren't annoying and miserable. But if you really learn how to pay attention, then you will know there are other options.
The real value of a real education [has] almost nothing to do with knowledge, and everything to do with simple awareness; awareness of what is so real and essential, so hidden in plain sight all around us, all the time, that we have to keep reminding ourselves over and over: 'This is water.' 'This is water.'
This shows how the American author viewed his life. He was perhaps trying to have a better understanding of himself to be able to choose what to pay his attention to.
---
Adjusting the default settings of our attention allocation requires changing how you think. To do so, you first have to think about your thoughts and pay attention to how you pay attention.
In Waking Up, the author/neuroscientist Sam Harris explains the default cognitive patterns this way:
The principal enemy of mindfulness—or of any meditative practice—is our deeply conditioned habit of being distracted by thoughts. The problem is not thoughts themselves but the state of thinking without knowing that we are thinking.
Mindfulness makes you more aware of the thinking patterns that you use that you don't even notice you use. Although it could be in the form of meditation, mindfulness is a mindset you can adopt in your daily life.
To be mindful is to be non-judgmentally aware of what is happening inside and outside of your body in the present moment.
In his recent interview with the former presidential candidate Andrew Yang, the CEO of Twitter/Square Jack Dorsey also talks about his view on mindfulness and meditation:
A practice of meditation actually helps us understand why we're doing the things that we're doing why we react in the ways that we do, and it's important for us to have that base level of understanding and self-awareness because, otherwise, we're just off shooting every single decision...
Dr. Vervaeke, in Ep. 9 of his lecture series, goes further to explain what mindfulness is.
You're engaging in automatic cognitive processes all the time. It's always running in your head. Often times, you're not aware of how you're coming up with all these thoughts you come up with. Mindfulness is about deautomatizing the cognitive processes, he says.
When you pay attention to something, the automatic process gets activated, and the experience of that object automatically appears in your consciousness. When you see a pen in front of you, you see the pen in your mind. It seems so simple. However, the process is usually more complicated and layered than you might feel.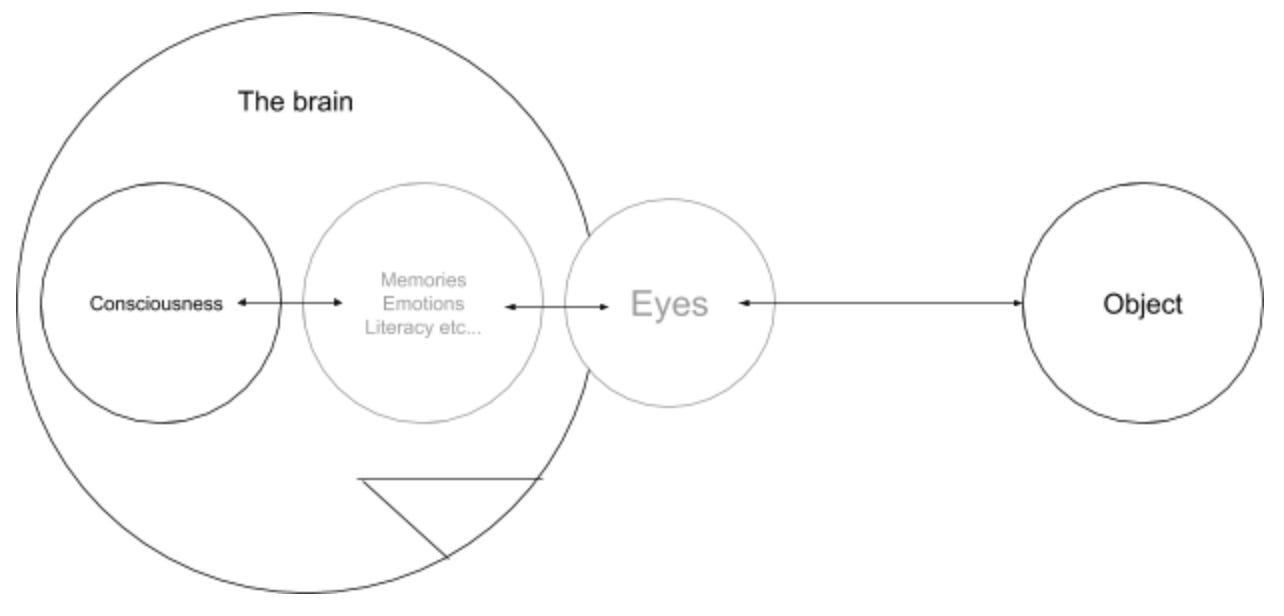 When you see someone, you are not just looking at them, but you are also looking at them through many things. You are aware, through your consciousness, memory, emotions, eyes, and everything else in between, of the person.
Or when you read this sentence, you're not just looking at it. You're looking through your literacy at the text. But, you're typically not aware of your literacy unless you try to.
What mindfulness does here is to make each of the layers more salient like psychedelics do. You deautomatize the cognitive process, and you can observe the layers in-between to review them.
You become more aware of the emotions you feel when you engage in activities. You become more conscious of the thinking patterns you unconsciously apply when you engage with the reality.
This is a way of stepping back. When you're reacting to an event, mindfulness lets you step back and look at each filter you put in between you and reality so that you can make the best choice possible.
This is why being present helps. It brings your attention back to what's closest to you: your mind, and the present moment as opposed to what you're focusing on through your mind or the future events that haven't come.
Mindfulness might make you notice what types of emotions you're experiencing. You might find it irrational to be evoking those emotions. You might be able to explore other ways to interpret the same event if you're fully aware of how you're experiencing it.
If you don't know the choice you're making, you can't know the other options. 
Most people around the world are stuck in their homes with more time to think. Next time you're trapped in the feeling of anger, fear, doubt, sadness, or any emotion, let yourself step back and observe what kinds of thoughts you're having and where they're coming from. You might be able to pick up different ways to engage with reality.
---
I will talk about suicide here. If you don't want to read about it, you should probably stop here.
One event that has been stuck with me this week is the death of Hana Kimura. She was a Japanese pro-wrestler and was starring in Terrace House, a Japanese reality show on Netflix. She died on Saturday at the age of 22. She was passionate, honest, and genuine. It feels weird to know someone I saw on the show a few days before is dead.
She seemed to be receiving some hate even before going on the show because of her achievements as a young female wrestler. Then, in the show, she had an incident with a guy on the show, and how she handled it caused so much hate towards her. It's common for the people on the show to get criticized by the panelists and the viewer for their actions. Their daily lives are being broadcasted worldwide. When they make mistakes, they have to deal with this amplified version of the feedback machine built by people they don't know. Although the official statement about the cause of her death hasn't been released, it seems like she took her own life. She was posting images of self-harm and a message that reads 'Goodbye.' 
The haters shouldn't have left hateful comments. The show could have cared for the members more. Her family and close friends could have been more careful. This is all too late now. I partially saw how cyberbullying could consume a human. It's easy to say to just ignore all the hate. It's easier to change yourself than change the world, but changing yourself is still the hardest thing you can do. 
We need a world where people are so content with their lives that they don't even think of leaving hateful comments. If you're happy, you don't think for a moment of making other people unhappy. Something must be wrong with the haters' lives. That's not to say it's okay to cyberbully people when you're having a bad day, though.
We need a world where people can learn to be mindful of the choices they have to break out of the vicious cycle. To me, like David Foster Wallace said about education, this is one of the essential skills that can be taught in school.
Be nice to each other. Be mindful of each other.
RIP Hana Kimura
I am on Twitter. Comments, feedback, book/article recommendations, anything is welcome.